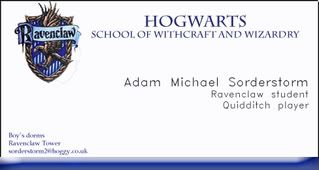 The Basics:
Name: Adam Michael Sorderstorm
House:
Ravenclaw
Birthday: November 1st, 2000
Hometown: Liverpool, Eng.
Pureblood/half blood/muggle born: Pureblood
Five words that best describe your character: Tall, snob, sarcastic, smart, obsesive
Appearance
Hair Color: Dark brown
Hair Style: Short
Eye color:Dark green
Height:
According to the growth chart
1st year
... 5`4" (1.62 m)
2nd year
... 5' 6" (1.67 m)
3rd year
... 5'9"(1.75 m)
4th year
... 6'0"(1.80 m)
5th year
... 6'2"(1.85 m)
6th year
... 6'2"(1.85 m)
Other distinguishing details: He found out in 2nd year, he is short-sighted and wears glasses sometimes
Family:
Father's name: Marcus Sorderstorm
Brief description (occupation, blood, etc): He is a pureblood wizard, who used to be a Slytherin. He works with his brother, Julius as heads of the family's firm of design of Magical Buildings. They hope one day their sons will join them in the business. In Adam's opinion he is a top class bully
Mother's name: Cristina Sorderstorm
Brief description (occupation, blood, etc): a pureblood Ravenclaw, that is a house wife. She fills her time with... well who knows!, her son is away and she has several house elves
Siblings (names and descriptions): Adam is an only child. But in the summer of 2nd year Sierra Leonki started to spend her holidays with the Sorderstorms, and now they call each other brother and sister.
Other key family members:
Iker Sorderstorm
Grandpa and Grandma Sorderstorm.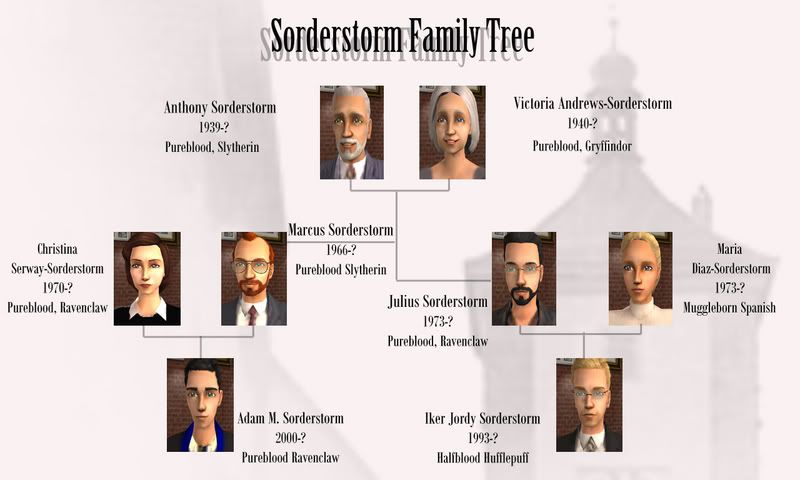 At Hogwarts
Your best subject: Divination! and Potions
Your worst subject: None of course
Extracurricular activities:Quidditch
Favorite place at Hogwarts: Lawn
Least favorite place at Hogwarts:Dorm
Do any of the staff members scare you?: She doesn't scare him; but he hates McAmis
Do any inspire you?: Not yet
Miscellaneous:
Interests/hobbies: Quidditch
What you might like to do after Hogwarts: Work with his father and uncle
Someone you look up to: Grandpa Sorderstorm
More stuff
Edited by Adam M. Sorderstorm, 26 November 2008 - 02:51 AM.